Gray Essary, of Somerville, Tenn., bows his head in prayer before his bull ride. The 23-year-old, who makes a living traveling "coast to coast, border to border" for rodeos, said prayer is a way to help clear your head and help him focus before the ride. "Kind of takes some of that weight off of you," he said.
Essary gets ready before the start of the bull riding portion of the rodeo.
Kirk Nelson, of Branson, Mo., and Keith Brauer, of Belleville, Ill., speak before the start of their competitions. "For me, it's just keeping the American West alive and letting people know that cowboys are still out there," Brauer said. "It's a way of life. Most of all these guys will do it for nothing. Will do it for free because they just love it."
Rodeo workers Jimmy Bartholet, of Muskogee, Okla., and Chad Orrick, of Imboden, remove their hats while the American flag is taken around the rodeo arena.
Brauer takes a moment to collect himself before his saddle bronc competition. Brauer, who shoes horses for a living and makes part of his income through rodeo, prays at competition and said religion is everything to him. "I pray to keep my family safe, keep me safe, keep the bucking stock safe," he said. "Everybody that's here."
The chaps worn by bull rider John Mincey, of West Plains, Mo., at the rodeo. "I feel like God give me a talent to use to glorify him and be a light in this world," Mincey said about why he competes in rodeos. "Whenever I meet him, you know, I want to be like, 'God I laid it all out on the line for you. I used every bit of talent that you give me. I did the best I can.'"
Mincey, right, chats with Essary before their bull rides.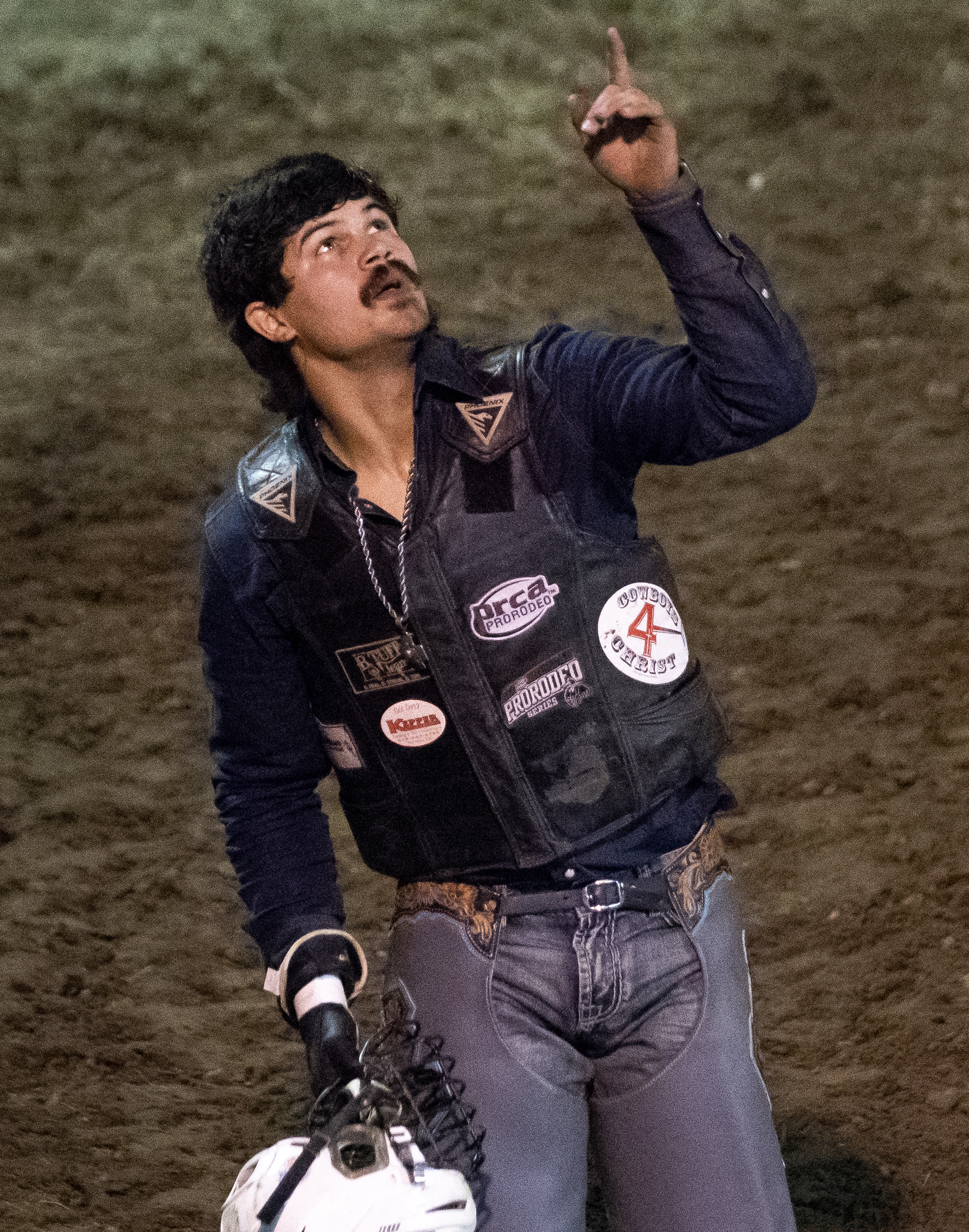 Mincey points toward the sky while celebrating successfully riding his bull for a full eight-second ride. Mincey, who turned 24 the day following rodeo, won the bull riding portion of the event. "Cowboys is a dying breed," Mincey said while speaking about rodeo. "So each day that we get to do it is a blessing."