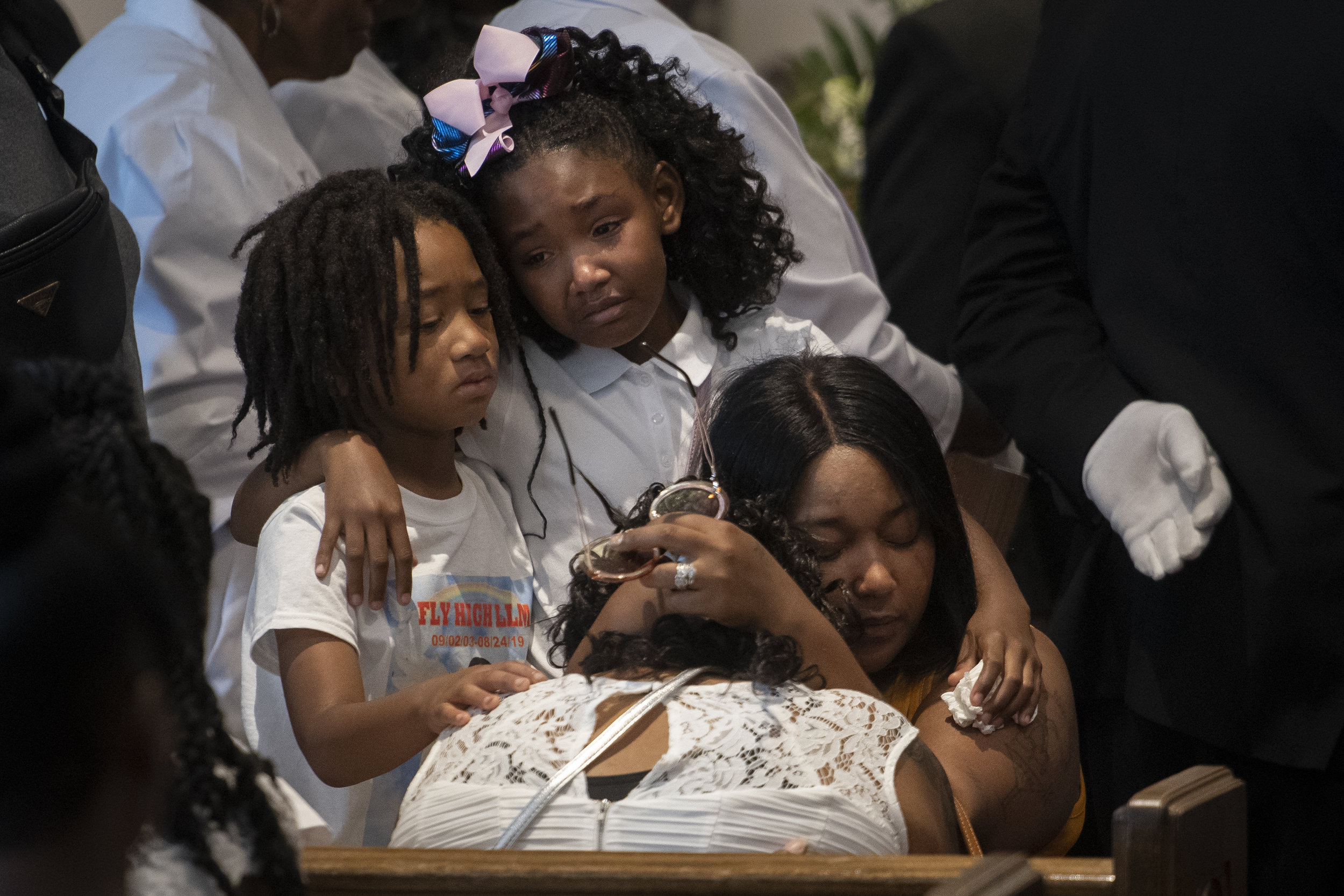 Monday was 16 years since the birth of Madison Robinson; Tuesday was her funeral. Robinson died after being shot Aug. 24 on the front porch of her Cape Girardeau home. Scores turned out for Robinson's visitation and funeral Sept. 3 at Mercy Seat Missionary Baptist Church in Charleston. "I'll have people remember this day, today, that a 15-year-old girl is dead in our community," Robinson's cousin Alex Gilbert said. "If you want to remember her, remember her as somebody that shouldn't have died because of the gun violence." Pictured from left: Sunnyboy Mims, 7, and Randi Jones, 9, cousins of Robinson; and Misty Robinson, aunt of Madison, mourn with Madison's mother Martez Johnson, with head bowed, during Madison's services. — Sept. 3, 2019, Charleston, Missouri.
For 30 years, Bob Meyer has placed American flags along roadways in his hometown of St. Henry. "What started out as just decorations went much, much deeper. It's the symbol of freedom," Meyer said Sept. 2 after completing a round of flag placement. "And that ties in big time with all these veterans here in this town." He said his mother, Nip Meyer, was on the decorating committee when the community celebrated its 125th anniversary in 1987 and asked him to put up the flags initially. Three decades later, Meyer is still placing the flags out for Labor Day, Memorial Day, Fourth of July, Veterans Day, September 11 and the community's annual festival. "When I started I thought, 'Well I'll do them as long as my mom wants me to," he said. "And then bless her heart, she's still here today for this 30th anniversary." — Sept. 2, 2017, St. Henry, Indiana.
Arleen Tipsword, who at age 90 believes herself to be the oldest member of Cornerstone Wesleyan Church, takes a brick as a souvenir from the remains of the church June 22 at 210 E. Outer Road in Scott City, Missouri. "It's heartbreaking," Tipsword said of the building that was destroyed in a fire during Friday afternoon's storm. "I met my husband here in this church." She believes it was 1978 when she first attended the church where she would marry her husband in 1985. "I mean this is most wonderful church family that we can depend on," she said. — June 22, 2019, Scott City, Missouri.
Chase McClelland, of Cardwell, Mo., and his cousin Elliot Smith, 4, of Arbyrd, Mo., sit atop a chute during the bull riding portion of the Greene County Fair's rodeo Sept. 6 in Paragould. McClelland said his cousin came to the rodeo to ride a sheep in the mutton busting. The rodeo also featured assorted competitions such as barrel racing and ring of fear. — Sept. 6, 2018, Paragould, Arkansas.
As students process through a blessing of backpacks ceremony Aug. 13 at Trinity United Church of Christ's Sunday service, Pastor Jane Hillman says a prayer for Corbin Schnarr of Jasper, 6. Hillman said she hopes to impart upon students that God is with them at school as well as in church. "Kids are comforted by having their backpack blessed," she said. "One kid got a new backpack during the year and brought it back in because he wanted it blessed. It gives them that symbol that God is with them." The Flanagan, Illinois, native brought the practice with her when she started at Trinity in 2013. — Aug. 13, 2017, Jasper, Indiana.
Kaitlyn Davenport and Jacob Grimes, both of Brookland, share a kiss while making the final descent on a carnival ride Sept. 19 at the Northeast Arkansas District Fair in Jonesboro. The pair said they have been dating for six months. In addition to the midway, fairgoers had the chance to visit a petting zoo, view livestock and treat themselves to assorted carnival fare. — Sept. 19, 2018, Jonesboro, Arkansas.
Joda Grace Bess, 7, of Cape Girardeau, receives a kiss from her father David Bess while dancing during the 11th annual Father Daughter Dance on Saturday, Feb. 16, 2019, at the Osage Centre in Cape Girardeau. "It's always a really good time," David said about the dance which he has previously attended with his daughter. The event, with "The Wizard of Oz" as its theme, featured food, music, dancing and wands for participants. — Feb. 16, 2019, Cape Girardeau, Missouri.
"It's rough," Jasmine Parker said about taking care of her father. "I don't know if it's going to be weeks or months. I mean I feel like he doesn't have that much longer to go." The Lehi resident said this Jan. 27 about her 79-year-old father, Richard "Dick" Fisher, of Cottonwood Heights, who died March 20. Fisher quit smoking more than 20 years ago, but died of chronic obstructive pulmonary disease (COPD) which Mayo Clinic defines as "a chronic inflammatory lung disease that causes obstructed airflow from the lungs." Fisher would receive help throughout the week from various professionals and Parker would visit her father every weekend and sometimes throughout the week depending on her schedule. "It's hard to run two households," she said speaking also about her own family. "But what do you do? I mean they take care of you when you're little so I mean it's the right thing to do." Pictured: Fisher is embraced by his daughter, Parker, before she departs from her father's home Jan. 27 in Cottonwood Heights. — Jan. 27, 2018, Cottonwood Heights, Utah.
"You come to see your loved ones," Army veteran Nicholas Fotiadis of East Moline said after kneeling at the gravestone of his wife Mary Ann Fotiadis. "I think what [Memorial Day] is supposed to stand for is the important thing. … If you served, I think you deserve this." Fotiadis, whose father and brothers also served in the military, placed a yellow rose and an American holly at his wife's grave May 30 at Rock Island National Cemetery. — May 30, 2016, Rock Island Arsenal, Illinois.
Tammie Swinney, of Carbondale, takes part in a worship service Oct. 30 at Olivet Free Will Baptist Church in Carbondale. "I do believe that [at] Olivet, we all love each other," said Olivet deacon Kent Mason. "I mean, I can go talk to any brother, any sister and they say they'll help me. They'll do things for me. I mean that's what you want. You want to be a family. And we are a family." This year the church celebrates 150 years in the Carbondale community. — Oct. 30, 2016, Carbondale, Illinois.
Ron Bristol cares for Lucy after the dog was rescued by firefighters from a house fire June 21 on 19th Avenue in Moline. Bristol, a neighbor of the Carr family whose house caught fire, said Lucy was located in the basement of the home. Jim Versluis, a training officer with the Moline Fire Department, said Lucy and Truman, the family's other dog, were rescued from the home, but the family's bird died. Jasmine and Daniel Carr and their two sons were not home at the time of the fire. Jan MacFarlane, a neighbor to the family, said the family moved in a few weeks ago. — June 21, 2016, Moline, Illinois.
Jason Desmond, of Lehi, rests his Winchester rifle, given to him by his grandfather, on his shoulder while attending a pro-gun rally on the steps of the Utah State Capitol on April 14 in Salt Lake City. Desmond said he attended the event because he believes people need to come out to support what they believe in. "This is something I believe in," Desmond said. "I'm not a huge gun nut, but I don't like that the Second Amendment is under attack and getting all the attention that it is in the media." At the protest, demonstrators heard from numerous speakers airing their anti-gun control beliefs. — April 14, 2018, Salt Lake City, Utah.
Clayton Sickbert of Huntingburg, 7, stood for the playing of the national anthem during the Southridge Raiders' 45-18 loss to the Princeton Tigers on Tuesday at Memorial Gym in Huntingburg. Sickbert's sister, Grace, is a sophomore forward on the team. — Nov. 7, 2017, Huntingburg, Indiana.
Cape Central's Luke Laramore (4) attempts to grab the ball as Jackson's Kalin Ellis (1) goes to second during Jackson's 15-0 win over Cape Central in the SEMO Conference semifinals April 27 at Capaha Field in Cape Girardeau. — April 27, 2019, Cape Girardeau, Missouri.
Southern Illinois sophomore guard Sean Lloyd kicks his leg into the air following a play near the conclusion of the Salukis' 72-67 exhibition victory against UMSL on Nov. 3 at SIU Arena. Lloyd scored a team high 13 points in the game. — Nov. 3, 2016, Carbondale, Illinois.
Southern Illinois guard Brittney Patrick attempts to block a layup by Owls guard April Gebke during SIU's 78-58 exhibition win against William Woods University on Oct. 27 at SIU Arena. "It's hard when you're playing against yourself all the time to really know where you're challenged," SIU coach Cindy Stein said. "That's why it's good to have a game like this." — Oct. 27, 2016, Carbondale, Illinois.
Rowland Hall's Justin Peng yells after he and teammate, Soren Feola, won their doubles match against Richfield's Jason Haywood and Justus Reitz during the Class 3A state championships on May 12 at George S. Eccles Tennis Center in Salt Lake City. Peng and Feola's victory sealed Rowland Hall's team victory in the Class 3A state championship. — May 12, 2018, Salt Lake City, Utah.
After a layup in the final seconds of the game from Karlie Valdez, the Fremont Silverwolves celebrate in the locker room after defeating Riverton 48-46 in the Class 6A state quarterfinals Feb. 22 at Salt Lake Community College in Taylorsville. — Feb. 22, 2018, Taylorsville, Utah.
Forest Park senior Taylor Bayer acts out pulling Forest Park eighth-grader Bryce Troesch from the womb of Forest Park senior Nolan Gentry, right, during halftime of the Rangers' 55-34 victory against Jasper in the Dubois County Hoops Classic on Dec. 16 at Jasper High School. — Dec. 16, 2017, Jasper, Indiana.
Gray Essary, of Somerville, Tenn., bows his head in prayer before bull riding during the 2018 Lawrence County PRCA Rodeo on Aug. 18 at Lawrence County Fairgrounds in Imboden. The 23-year-old, who makes a living traveling "coast to coast, border to border" for rodeos, said prayer is a way to help clear your head and help him focus before the ride. "I guess our life can be taken at any moment," Essary said. "It's best before we get on the bull to go ahead and talk to the big man upstairs. Get everything right." — Aug. 18, 2018, Imboden, Arkansas.